Oakwood's technology – called Chroniject™ – is a patented polymer based injectable microsphere system for drug delivery.  We can bring products from concept through commercialization, and work on projects other organizations find difficult to handle.  We focus on the highest standards of partnering and quality with shortened timelines. Oakwood has decades of experience in this field, partnering with organizations, and has been tremendously successful in our efforts.
Capabilities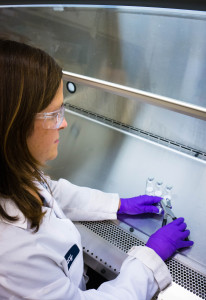 Chroniject™ uses PLA, PLGA, or other polymers, and is typically compatible with small molecules, hormones, peptides and selected proteins. Our technology employs a robustly controlled aseptic production process resulting in a stable, lyophilized long acting injectable finished product, ready for reconstitution with water for injection (WFI).
Our process is easily scaled up and produces reproducible lots.  With our FDA approved aseptic manufacturing facility, we partner with organizations throughout the entirety of the development process and commercialization.