Chroniject™ Microsphere Technology
Chroniject™ Microsphere Technology
Oakwood Labs has over twenty years of experience in developing and manufacturing sustained-release and targeted release injectable drug products. Our microsphere technology, Chroniject™, is a patented polymer-based injectable microsphere system for drug delivery. This microsphere technology is compatible with small molecules, peptides, and proteins, and enables their sustained release over durations of two weeks to one year.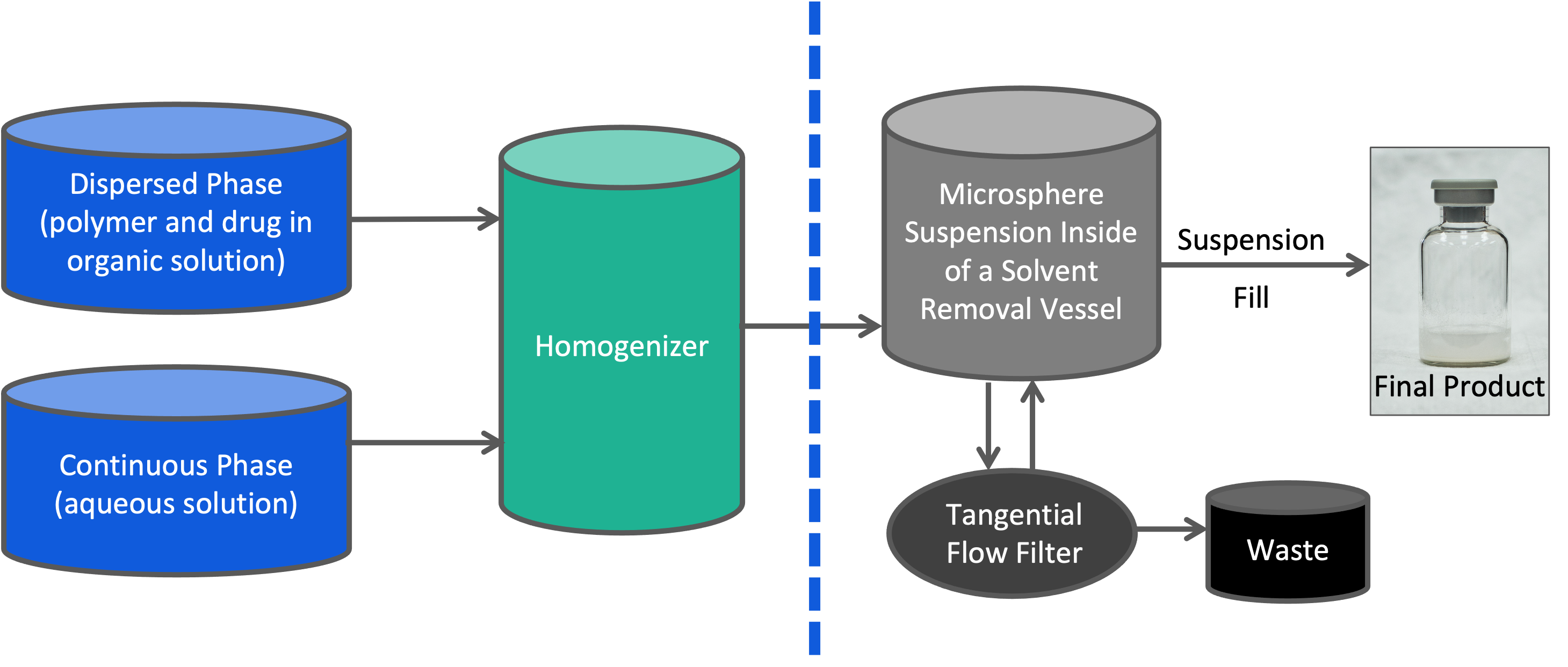 Our Process for Manufacturing Microspheres
Oakwood's microsphere manufacturing process can be scaled up to commercial production with demonstrated lot-to-lot reproducibility under aseptic conditions. We initially utilize small batch sizes to enable rapid formulation development and testing of numerous trial batches to obtain a formulation with the desired release profile, as well as other product characteristics. In parallel, we develop and refine the analytical methods to test prototype formulations.
Once several promising formulations are tested in vitro, animal studies are performed to determine if the in vitro testing is reflective of the in vivo release profile, and to select a formulation to scale up for human testing. A confirmatory animal study may be conducted with the scaled-up material manufactured in our GMP facility. Clinical trial material is usually produced at the forecast commercial scale, so that upon success of the clinical trial, scaling up will not be an issue.
To learn more about our microsphere process, check out our formulation development page.
---
Advantages of Our Microsphere Technology: Chroniject™
As a leading manufacturer of injectable microspheres, our Chroniject™ technology is second to none. When it comes to microsphere systems for drug delivery, Chroniject™ delivers many advantages to your operations.
Some of the key benefits include:
Rapid development of formulations using small scale batches
Formulations are easily scalable
Well-controlled process parameters
Proven lot-to-lot reproducibility
Molecule compatibility (small molecules, peptides, proteins)
Flexible release durations from 0ne week to one year
Excellent stability
Instant reconstitution with WFI – no special diluent required
Applications in multiple therapeutic indications (CNS, neurology, ophthamology)
Our Microsphere Analytical Capabilities
At Oakwood Labs, we offer a full range of analytical testing capabilities to support formulation development and clinical supply manufacturing. All of our analytical testing capabilities are able to be completed in-house by our team, allowing for rapid results turnaround and close interactions between the formulation and analytical teams.
The full range of analytical testing capabilities we provide are listed below:
HPLC
UHPLC
GC
GPC
In vitro

 

dissolution
Laser diffraction particle sizing
DSC
UV/Vis
Karl Fischer
LC/MS (external)
GC/MS (external)
NMR (external)
---
Reach Out to Oakwood Labs for Your Microsphere Manufacturing Needs!
As a global leader in sustained drug release delivery, Oakwood Labs is able to support all phases of long-acting injectable development. Our technology and manufacturing capabilities have been solving complex challenges in the pharmaceutical injectable industry for over 20 years.
If you are interested in injectable microspheres or microsphere systems for drug delivery, contact our team at Oakwood Labs today. We also offer a variety of additional services to help meet your pharmaceutical needs.